The first film in the Lionsgate/Crest partnership is the upcoming CGI animated family feature Alpha and Omega, featuring the voices of Justin Long, Hayden Panetierre, Christina Ricci, Danny Glover, Dennis Hopper and Larry Miller. Directed by Anthony Bell and Ben Gluck, Alpha and Omega is expected to premiere in October 2010. Click the image for trailer..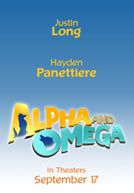 Lionsgate announced today that it will partner with Crest Animation Studios to co-produce the stereoscopic 3D animated family feature Norm of the North as the second film in their three-picture deal. Lionsgate will distribute in North America. The announcement was jointly made today by Joe Drake, Lionsgate Co-Chief Operating Officer and Motion Picture
Group President; Mike Paseornek, Lionsgate President of Motion Picture Production; Ken Katsumoto, Lionsgate Executive Vice President of Family Entertainment; Noah Fogelson, CEO of Crest Animation Productions; and Seemha Ramanna, Managing Director Crest Animation Studios.